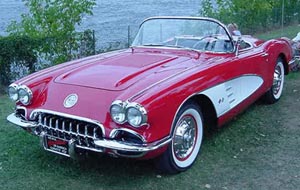 For tye second year, we took a stroll down to Fort Chambly, along the Richelieu river, to visit the antiques cars exhibit which have been held there for the past 10 years. All profits from this event are given to the MIRA Foundation who train and supplies guiding dogs for the blind.

This year, more tha 400 cars were displayed, from the classic Ford Model T to the more shiny cars of the 50S, and 60's.

Despite of a rather hot temperature, the proximity of the Chambly Bassin and the many trees on the grounds of Fort Chambly provided some relief from the heat.

A few specials this year, like that 2 stories London bus which seemed to me more like an advertisement for bottled water than an attraction in itself. Another curio was a steam engine car, in very poor condition but which drew a lot of attention. Hope it will look better next year, as many of these collectors really invest heavily in their toys.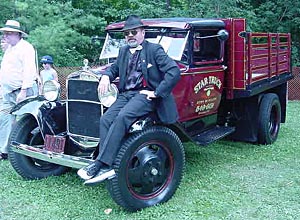 Some participants, like M. Bégin, showed up all dressed up in costume from the same era as their cars, while other displayed scrapbooks filled with photos of the restauration of their car complete with hour counts of the time they spent fixing thier antique car.
Certains cars seemed to come from a 1930 gangster movie despite the fact that some of these colors were probably not available at the time they were built.
It was a very nice day out, and for those of you who missed it, or did not know about it, we have prepared two photo albums to look at. Have fun!
Click here to view photo album 1
Click here to view photo album 2