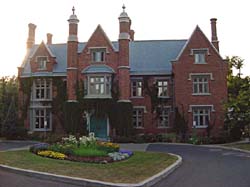 We went to see that show in a new annex (the Orangerie) that Yvon Deschamps, a welll know Quebec stand-up comic built when he bought it in 1996 .
It is a prestigious house which has been classified as a historical monument since 1977. I could not stop myself from admiring the beautiful gardens, specially the ones in the back of the manor.
You will find below, as presented on the Manoir Rouville-Campbell web site, the history of that Manoir.
In 1694, King Louis XIV conceded to Jean-Baptiste Hertel the seigneurie de Rouville along the Richelieu river. But it is only in 1819, that René Hertel de Rouville, 5th in line, decided to establish this home there. At first, he lived in a modest stone and wood house on his lands in Saint-Hilaire. In 1832, he built on the actual site, a manoir, more in line with his rank and also to accomodate his large family.
A bankrupt, in 1844, forced him to forfeit his properties to a british officer, Major Thomas Edmund Campbell. In 1850, Major Campbell considerably modified the old Lord House, getting inspiration from the New Inverawe Manor of his homeland Scotland, which gave it the Tudor look it still has today, a contrast by its looks and unusual dimensions with other manors in the country.
After the last Lord Campbell left in 1956, the Manoir was abandonned. In 1969, sculptor Jordi Bonet bought it to use as a workshop and home until he died. Classified a historical monument in 1977, it kept its cultural vocation until 1987, when that magnificent building was then transformed into a luxurious hostel.
After a transition period, the Manoir, more than a century old was revamped in a remarquable fashion by the actual owners at the time, well kown in the hotel business, M & Mrs Daigle.
Since 1996, well known stand-up Yvon Deschamps is now the happy owner of this historical gem. To celebrate the bicentenial of the domain, M. Deschamps, decided to complete the gardens surrounding by building the "Pavillon de l'Orangerie" along the Richelieu river.
Whether it be during the day or at night, the unique windows of the Orangerie make it an exceptionnal viewpoint for the Manoir, the gardens, or the Richelieu river. The Orangerie, based on a tradition dating back to Louis XIV, is a festive environment for receptions, business reunions and shows.
If you need more details on the Manoir, feel free to visit their website
To view the photos I took there, click here